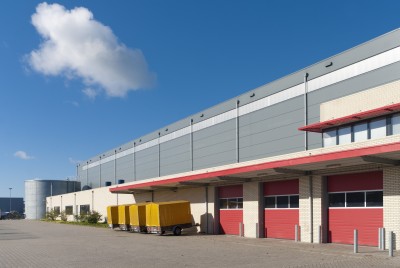 Commercial and industrial doors go through much more hard work than the average residential door, so it is important to have one that can withstand the abuse. At American Industrial Door in Klamath Falls, we have been installing, repairing and maintaining doors of all kinds for every type of industry in the area for over 25 years. What this means to our customers is that we know all there is to know about the different kinds of doors and how to service them, no matter what your business is. Commercial and industrial doors are usually made thicker and stronger to withstand the pressures of everyday business. Because these doors are made heavier and stronger than residential doors, it is even more important to make sure they are installed correctly and safely by technicians who are trained and experienced in commercial door installation. American Industrial Door of Klamath Falls is proud to be the company that most businesses look to when they need service of their garage, service or fire doors.
When you make the right decision to trust in American Industrial Door of Klamath Falls, you are working with a company that won't be satisfied until you have the right door that you need, installed safely and ready to help your business succeed. At American Industrial Door, we are also aware that the freezing conditions of Klamath Falls winters may require special consideration of some types of doors and locks. We work with all different types of commercial and industrial doors for all different types of industries and we are sure to quickly find a door that will work perfectly for your specific needs. Some of the more common types of doors we install, repair and maintain are listed here.
• One Piece and Sectional Doors. These are a solid or sectioned kind of door, made to swing up and to be secured back above the garage or work area. These are not often built today, but still be found in older commercial buildings.
• Roll Up or Service Doors. These are commonly found in mechanical garages and are designed to roll up and be stored right above the opening to the work space. They are often installed in places that need an increase in weather or security protection. They can also be painted easily to match any indoor spaces nicely.
• Counter Doors. These doors are used in indoor spaces and are lightweight and made to easily be open and shut over a countertop. They are the type of rolling door that you commonly see in pharmacies and concession stands.
• Security Grilles. These doors do not in any way close off a space, as they are made of slats to allow visibility, but can still be effective for security and safety. They are designed to roll from either top to bottom or side to side, making them work well in most situations. They are often found in malls and schools.
COMMERCIAL BRANDS AND SUPPLIERS
Wayne Dalton – www.wayne-dalton.com
Porvene Doors – www.porvenedoors.com
Cookson – www.cooksondoor.com
R & S Manufacturing – www.rsdrprod.com
QMI Security Shutters – www.qmiusa.com
At American Industrial Door of Klamath Falls, we know that as a business you want to work with other businesses that you trust and respect. We have earned that from many companies in Southern Oregon and that is because of our dedication to customer service, integrity as a business and being the highest trained and most knowledgeable in the commercial and industrial door business. We believe that our customers deserve our respect and prompt attention no matter how small or large the project is and that sometimes repairs and emergencies happen at inconvenient times. This is why we offer same day, next day and emergency service for all repairs and service calls. That means that 24 hours a day, we are ready for your call and to help make sure your business is protected and safe. Every one of our expert technicians are licensed, bonded and insured, which lets you know that you are doing business with a company that is not only proud of what we do but we take our work, service and industry very seriously.
Call us today for all your Commercial and Industrial door needs!